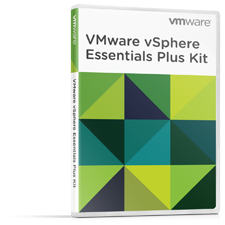 This kit includes 6 CPU licenses of vSphere Essentials Plus (for 3 servers with up to 2 processors each) and 1 license for vCenter Server Essentials.
The vSphere Essentials Plus Kit consists of the following:
vSphere Hypervisor (ESXi)
vCenter Server Essentials
vCenter Operations Manager Foundation
vSphere Data Protection
vSphere High Availability (HA)
vSphere vMotion
Cross Switch vMotion
vSphere vShield Endpoint
vSphere Replication
A minimum 1 year support subscription is required with purchase of any vSphere Essentials Plus Kit. Basic support includes Technical Support, 12 Hours/Day, per published Business Hours, Monday through Friday. Production Support includes Technical Support, 24 Hours/Day, 7 Days a week.
VMware Part Numbers:
Kit & Basic Support 1 Year Subscription – VS6-ESP-KIT-C and VS6-ESP-KIT-G-SSS-C
Kit & Basic Support 3 Year Subscription – VS6-ESP-KIT-C and VS6-ESP-KIT-3G-SSS-C
Kit & Production Support 1 Year Subscription – VS6-ESP-KIT-C and VS6-ESP-KIT-P-SSS-C
Kit & Production Support 3 Year Subscription – VS6-ESP-KIT-C and VS6-ESP-KIT-3P-SSS-C